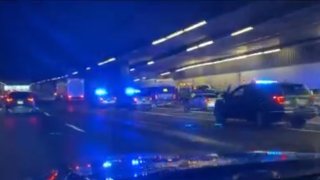 A car crash involving a tractor trailer inside the O'Neill Tunnel caused heavy delays during Tuesday morning's commute into Boston, Massachusetts.
The crash cleared by around 7 a.m. but caused about 30-minute residual delays entering the tunnel on the northbound side of the expressway.
Another crash in the same area on the southbound side of the tunnel is causing a back-up across the span of the Zakim Bridge into Boston.