Numerous crashes are starting to be reported across the region as snowfall intensifies early Saturday afternoon.
A car rolled over into the front yard of a home on Western Avenue in Lynn, Massachusetts, around 5 a.m. Saturday. One person was evaluated for what appeared to be a minor injury.
Images from the scene showed the rolled over vehicle just feet from the home's front steps.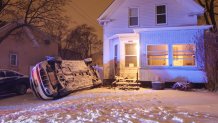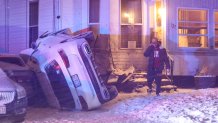 A serious crash also shut down parts of the Southeast Expressway in Boston on Saturday morning. The accident occurred on Interstate 93 north near Exit 14.
All four northbound lanes were closed for a time, with traffic backed up for two miles.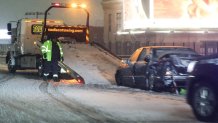 Another crash was reported late Saturday morning on Bush Hill Road in Pelham, New Hampshire.
More on Saturday's blizzard
The MBTA Greenbush commuter rail line is cleared after a truck skidded onto the tracks in Cohasset.