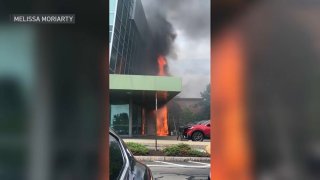 A fire Wednesday afternoon at a medical facility in Derry, New Hampshire, was caused by improper disposal of smoking materials.
Crews responded to the fire at the Derry Medical Center on Tsienneto Road after being getting alerted to the fire just before 3:30 p.m. First responders showed up at the three story building to find heavy fire on the front side of the building, extending to the second floor, according to a news release from the Derry Fire Department. The building was occupied when the fire broke out, and people were evacuating when the fire department arrived.
Fire crews worked to extinguish fire on all three floors, while removing smoke from all three levels of the building. Over a dozen agencies from across the area responded to the fire, and three firefighters had to be taken to a medical center for minor injuries. They were later released.
The Derry Fire Department said around 6:15 p.m. that the fire was under control, but that firefighters were checking for hot spots.
On Thursday, the fire department identified the cause of the fire as the improper disposal of smoking materials into combustible mulch landscaping.
"The Derry Fire Department would like to remind the public never to discard smoking materials in mulch or potted plants and never toss cigarettes from porches or windows," the department said in a statement.
No civilians were hurt during the fire, fire officials said.
The Derry Medical Center said its Derry office would be closed for several days, and that providers would see patients in other offices.
The Derry Fire Prevention Bureau, with help from the Derry Building Inspector, investigated the cause of the fire. Officials did not specify any findings, but they did say that the fire is not considered suspicious.