Firefighters battled a blaze at a home in Boston's Roxbury neighborhood on Monday and one was taken to the hospital.
The Boston Fire Department said they were called in around 5 p.m. to the building on Forest Street. Boston fire officials said one firefighter was taken to the hospital with minor injuries. The three residents who live in the home made it out safely.
An elderly woman was all alone in her third-floor unit on the right side of the building at the time of the fire. But her son, who lives in an apartment on the left side of the building, was home and she called him to come over.
"I saw smoke and then I saw fire," said her son, Roland Johnson. "Then we tried to put it out, then it got out of control."
The smoke and flames were coming from the dining room on the first floor, but there was nothing they could do except escape.
Johnson said he rushed his mother out and was anxiously awaiting word on her cat, Tigger, who was still inside.
"I got my mom out of the house, but once I got her out the house, the cat was on the third floor, there was no getting to the third floor after the fire got started," he said.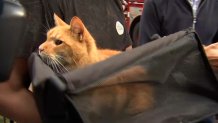 Firefighters were able to find Tigger the cat and put out the fire before it moved to the other side of the building.
Local
In-depth news coverage of the Greater Boston Area.
But it wasn't easy. They say there was too much stuff inside making it difficult to navigate.
"Furniture, debris, you name it it was in their way," said Deputy Fire Chief Michael Hocking.
The home on Forest Street near Nubian Square is likely a total loss.
There's a hole in the roof and the windows are broken out.
"There's heavy damage to the house," said Hocking. "I'd say in excess of $500,000 damage."
The building has been in the family for over 50 years.
"We'll get through it," said Johnson. "God has a plan, I'm sure this wasn't part of it, but maybe it was."
They're just thankful they're OK, and that Tigger survived.
"When they came out with him, I was so happy, he's the greatest little cat in the world," said Johnson.
A firefighter sustained a sprained ankle, but there were no other injuries.
The cause of the fire is under investigation.