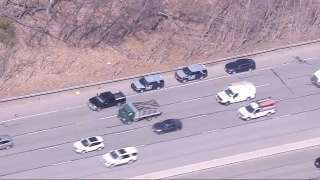 A person was found dead in the woods near Interstate 95 in Weston, Massachusetts, Friday, police said.
Information on the person's death, including who they were and how they died, wasn't immediately available.
The area where the body was found, which appeared to be a few hundred feet from the highway, may have been the site of an encampment of unhoused people, investigators said. State and local police, as well as ambulance workers, were called to the scene about 10:23 a.m.
One lane of the I-95 south was closed during the investigation, police said.
NBC10 Boston has reached out to local prosecutors and police for more information.
This breaking news story will be updated when more information is available.