A funeral was held Monday for hockey player Jimmy Hayes, the Boston native and one-time Bruins player who died earlier this month, to the shock of the local and national hockey community.
Hundreds attended the service where loved ones remembered Hayes for his sense of humor, his kindness and his passion for the community.
After the emotional ceremony in Dorchester, where the extended Hayes family is a fixture, children lined a street to honor the local who went on to wear No. 11 in black and gold by raising their hockey sticks.
Hayes' younger brother Kevin, an NHL player himself, spoke at the funeral, calling the last few days hard for his family and thanking the many people who've reached out with support.
"My whole life I followed Jimmy around, and it's worked out so far, because I'm basically crushing it," Hayes joked, before continuing, almost overcome with emotion, "It has always been 'the Hayes brothers,' or 'Jimmy and Kevin.'"
Jimmy Hayes' death at 31 was announced last Monday, bringing tributes from people all over, who remembered him as a fun-loving, engaging figure who touched everyone.
"He was the big brother that everyone would want," Kevin said at St. Ann's Church in Dorchester, adding later that the only time that Jimmy ever prioritized himself was when he was fixing his golf swing.
"Everyone in this church is a better person for having known my brother," he added.
"Jimmy Hayes story doesn't end today. It's only the beginning," Kevin said. "Jim left a blueprint for us all. Through his actions, he has taught us to be a better friend, a better brother, a better son, husband and father."
Hayes' widow, Kristen, also spoke at the funeral, touching on how much her husband loved spending time with her and their two young boys -- Beau, 2, and Mac, 3 months.
"You decided to leave the game you love and your new job became dad. You gave me the two best boys in the world, but we weren't finished," Kristen said. "You were simply the best. There's no other way to put it. The best husband, son, uncle, brother, friend, but most importantly dad. The boys and I were your whole world and you made sure we were always reminded of that."
Kristen called Jimmy the "biggest hype dad of all time," saying he was never embarrassed to do whatever it would take to make the kids feel comfortable -- from victory dances at swim lessons to dressing up on Halloween to making school drop offs a dance party.
"Beau watched every little thing you did. I know every time he gets a putt in, you're up there smiling," she shared. "I'm so happy that Beau's first time on skates was with you."
Kristen also shared a heartbreaking story about the older of the couple's two sons, saying, "Each night, Beau looks at the background of my phone and says, 'goodnight, Daddy. I love you.' before he goes to sleep. I know you're already watching over both him and Mac."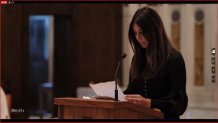 It's the little things that Kristen will miss the most about her husband, she said. "The sound of your voice, your smile, your energy, the way you took such pride in your boys, and the high five at 8 p.m. once the kids were down."
"You were my soulmate and the best dad to our Beau and Mac. I will make sure they know our love story and I know they will continue to honor your legacy as they grow," she said. "Our time together may have been cut short but our love will last a lifetime. You were so very special, Jimmy. Heaven has gained an angel."
After graduating from Boston College, Jimmy Hayes played 334 games in the NHL, including two seasons with the Bruins. Monday, his brother tearfully recalled a time when Jimmy brought a 12-year-old boy with terminal cancer into the Bruins' locker room and gave him one of his best memories before the child died.
"After the game, Jimmy brought Michael and his dad into the locker room and asked him who his favorite player was and said, 'it didn't have to be me,'" Kevin shared. "Michael said it was David Krejci. So Jimmy brought him over to Krejci's locker and had them hang out together for almost 20 minutes. After meeting his favorite player, Jimmy stayed with Michael, taking pictures and giving him sticks and a bunch of Bruins swag."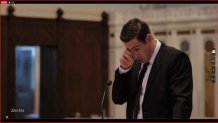 "Unfortunately Michael passed away just a month later. His dad told us..." Kevin continued, pausing as he fought back tears. "It was the greatest night in his son's short life. And that Michael loved Jimmy and he felt for the first time that he didn't have cancer that night. His dad was awestruck by Jimmy's kindness and was so grateful that Jimmy gave young Michael one of the happiest days of his life."
The father told the Hayes family that Jimmy will always be Michael's hero, Kevin said. "This is just one of the stories about how my brother changed many people's lives."
Along with scores of kids wearing Hayes jerseys spanning the length of his career on Hallet Street Monday, NHL star P.K. Subban was in Boston to pay tribute.
"I know it's only been a week, but I've learned that in the face of tragedy our community really comes together," Kristen shared.
The Hayes brothers are also related to the Tkachuks -- Keith Tkachuk, one of the best Americans to play hockey, and his sons Matthew and Brady, who currently play in the league -- as well as Tom Fitzgerald, a former NHL player who is now the general manager of the New Jersey Devils.