As frustration with the state's vaccination efforts grows, Massachusetts Gov. Charlie Baker detailed plans to Monday to have 103 public vaccination sites open by the end of the week with an online map and registration portal ready for eligible residents to make appointments.
Baker also said that residents age 75 or older would become eligible to receive the vaccine beginning Feb. 1 at the start of the state's second phase of vaccination.
Residents age 65 and older have been bumped up in priority, and will join people with two or more comorbidities in the second group to become eligible in Phase 2 sometime in February.
The update to the state's progress on vaccinations was delivered as public health experts and policy leaders are increasingly voicing their concerns with the pace of vaccination in Massachusetts, which ranks among the bottom of states, by some metrics, in distributing vaccine to its residents.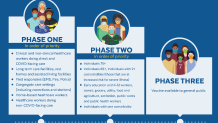 Baker said that by mid-February the state will have 165 public vaccination sites open with the capacity to administer 305,000 doses per week, but he stressed that Massachusetts will need to begin receiving more vaccine from the federal government than it currently receives in order to fulfill that promise.
"The capacity to vaccinate is not the same as shots administered," he said. "Those results will depend on several variables, including the availability of doses from the federal government."
"We're setting up the capacity to administer more doses than we're projected to get from the feds," Baker added. "If we continue to get the same number of doses, we may end up with empty sites, seats and appointments. But it's better to over plan at this point and hope the feds can get there than to under prepare."
"For people who live in independent housing and have been stuck in their houses or their apartments, this will be a tremendous boost for them," said Dr. Suzanne Salamon, associate chief of geriatrics at Beth Israel Deaconess. "People's immune systems start to get weaker as people get older, so they are more prone to getting diseases like COVID and not having great results once they get it."
She's been taking a lot of calls from her patients who are curious about how and when they can get the vaccine.
"They are very eager," said Salamon. "In fact, I haven't had one single patient who didn't want to get it."
As part of the effort to increase access to the vaccine, Baker said the state plans to open a total of seven mass vaccination sites. In addition to Gillette Stadium and Fenway Park, Baker said the Eastfield Mall in Springfield will open on Jan. 29 as a mass vaccination site, followed by the DoubleTree Hilton hotel in Danvers on Feb. 3 and the Reggie Lewis Center in Roxbury sometime in the first week of February.
"I do think that it's great that we do have a vaccination site set up in Roxbury, but there's still a lot of work to do," said Dr. Afi Semenya, an instructor at Boston Medical Center.
She says access to the vaccine in minority neighborhoods is critical, but so is information.
"When you're going to be eligible to get the vaccine, where you're supposed to go, what time you're supposed to go," said Semenya. "There are a lot of factors that haven't been adequately addressed by the administration."
Health and Human Services Secretary Marylou Sudders said retail pharmacies that will be among the public vaccination sites will also be told to prioritize sites in communities of color like Chelsea, Revere, Mattapan, Dorchester, Roxbury and communities outside of Boston that have have experienced a disproportionate impact from the COVID-19 pandemic.
More details on when and where you can get vaccinated and how to schedule an appointment can be found at mass.gov/covidvaccine.
Massachusetts relaxed some coronavirus restrictions on Monday as several key metrics used to measure the spread of the disease trend in the right direction.
Restaurants, movie theaters and many other businesses will now be allowed to remain open past 9:30 p.m. Also, a rule that required people to stay at home from 10 p.m. until 5 p.m. except for work or other essential travel has been lifted.
The restrictions were adopted in November as new cases surged.
"Obviously, we still have a lot do do and we absolutely have to stay vigilant with respect to COVID," Baker said Monday. "But the data seems to be moving in the right direction."
The latest 7-day average positivity rate in Massachusetts has dropped to 4.83% as of Sunday, down from 7.2% on Jan. 10. State health departments are calculating positivity rate differently across the country, but for Massachusetts the AP calculates the rate by dividing new cases by test specimens using data from The COVID Tracking Project.
The 7-day rolling average of daily new cases in Massachusetts is also on the decline, at 4,271 on Sunday, down from 6,447 on Jan. 10, according to The COVID Tracking Project.
Hospitalizations are also falling.
Some safety measures remain in place, including a 25% capacity limit for many businesses, including restaurants and casinos.