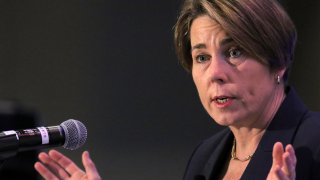 Gov. Maura Healey is putting the "final touches" on a "tax package" that she plans to file with her fiscal 2024 budget proposal on March 1.
During an appearance on WBUR Wednesday, Healey announced the timing of the package.
"You will see that I will be filing, at the same time as my budget on March 1, a tax package," Healey said in an interview on WBUR's "Radio Boston." "It's a tax package directed at making life more affordable for folks and we are busy putting the final touches on that."
Healey did not offer details about her forthcoming legislation, but she said it would "involve a package" with a goal of making Massachusetts more affordable for families and more competitive for businesses.
As a candidate, Healey endorsed tax relief ideas offered by her predecessor, Republican Gov. Charlie Baker.
Top Democrats in the Legislature initially approved a package last year featuring reforms to the estate tax and breaks for renters, seniors and caregivers but backed away from the plan after learning the state owed nearly $3 billion to taxpayers in mandatory relief.
During Wednesday's interview, Healey also discussed delays in the delivery of new subway cars, calls for a higher minimum wage, plans for a search process for a new State Police superintendent, and the state's role in the semiconductor industry.
Copyright State House News Service