A man was stabbed to death in an apartment in Nashua, New Hampshire, early Tuesday morning, and another man was arrested on suspicion of killing him, authorities said.
The killing occurred early Tuesday morning at a residence on Marshall Street, the New Hampshire Attorney General's Office and Nashua police said.
Aerial footage from the scene showed a large apartment complex with police tape and a police cruiser parked out front. A large crime scene truck was also seen arriving at the building later in the day.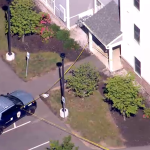 Evangelos Ioannou was identified Tuesday afternoon as the 32-year-old who was killed. Authorities said Joshua Shea, a 31-year-old from Nashua, was arrested on a charge of second-degree murder for killing Iannou with a knife.
Shea is expected in court Wednesday. It wasn't immediately clear if he had an attorney who could speak to the charge.
Neighbors said the killing followed a loud argument and a fight.
Family members of Ioannou stopped by the apartment complex on Tuesday and were overwhelmed with emotion.
"To hear this news is not OK for me because it's not fair. My brother should never have gone out like that," said the victim's sister, Stephanie Fielding.
Ioannou had three young children. His family told NBC10 Boston he was stabbed to death inside a third-floor apartment but that he had no known connection to the complex.
"He was a great person, with a huge heart," his sister said.
Fielding said her brother had recently been living either in a halfway house or with her mother. She said he struggled with drug addiction but was committed to getting sober.
"If my brother was to pass at a young age like this, it should have been from an overdose because those were the decisions he had made," she said. "He should have never been brutally murdered."
Investigators spent hours inside the building on Tuesday and looked at a nearby minivan as well. They said they are continuing to investigate the circumstances surrounding the homicide and should have more information soon.
"It's kind of unsettling," said Amanda Soucy, who lives in the building. "My kids are a little upset."