The investigation after a racist image was sent to Boston high school students attending a weekend regional jazz festival on the campus of the University of New Hampshire is complete, and it has been determined the incident is not a criminal case, according to a UNH statement on Friday.
The incident was investigated by the UNH Police and other law enforcement agencies.
"It was determined that the responsible individual was not a member of the UNH community. An out-of-state juvenile from a New England high school was identified as the one responsible," the statement said. "The two affected schools are in contact about how best to address the incident through education and awareness."
The statement added that racism has no place on the UNH campus or in society.
In a letter sent to students' families, Boston Arts Academy Headmaster Anne Clark said the students at the jazz festival "were subjected to a disturbing incident of racism."
A number of students were sent the image shortly before they were scheduled to perform by one or more people nearby who used the "AirDrop" feature on an iPhone.
The picture in question is a selfie edited with black marker on the person's face. The caption at the bottom reads, "Celebrate black history month."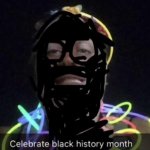 The incident happened over the weekend at the Clark Terry UNH Jazz Festival hosted by the university. The festival is an annual event that features guest artists, UNH jazz faculty, the UNH Jazz Band and students from high schools and middle schools throughout New England.
Local
In-depth news coverage of the Greater Boston Area.
Clark told the students' families, "This incident was completely unacceptable, and I am very sorry that our students had their otherwise positive experience disrupted by a hateful act."
Both Boston Public schools and the University of New Hampshire issued statements Sunday night.
"We are deeply disturbed that Boston Arts Academy students were subjected to racist conduct during a regional high school jazz festival out of state, and are ensuring that the affected students receive support," Boston Public Schools said in a statement. "There is no place for such hateful and vitriolic conduct in our society."
"We were saddened to learn that students from one of the participating schools received racist images on their smartphones via AirDrop while guests on our campus," a UNH official said in a statement. "This behavior has no place on our campus and goes against all of our values as a community. Our first concern is for the affected students."
The Boston Arts Academy students say they had spent hours rehearsing for the jazz festival.
"It was like a big new experience for us because we actually never left the school as a collective," senior Brandon Volel said.
But before a single note was played Saturday, students began receiving pictures on their phones.
"The first couple Airdrops were just different, like, memes and different pictures," said Samantha Marcelino, a freshman in the band. "And then my friend Leanne she had took my phone to see what they were and that's when I got the black face picture."
Marcelino said after receiving that image, she felt "just weird, kind of felt out of place after that."
"They were the only kids of color in the space that they were in. It starts off with pictures, it starts off with what they think is harmless words, but you know we have a long really turbulent history based in this type of stuff when it comes to race," Marcelino's mom said. "I'm sending her out into the world on her own and in this journey of music and that this is one of the first experiences that she has going out there, it's a little bit disheartening and a little worrisome."
Volel says he had to calm down some students before they went on.
"It's very alarming to be a person of color, to have to still deal with that in 2019," he said.
Volel's mom, Maria Andrade, says the students had been practicing too hard to have to deal with this racially-charged intimidation.
"I honestly don't feel they're mature enough at the level to understand the ignorance behind it," she said. "It may just be a joke to you, but it's not. No one should be ridiculed, no one should be laughed at. No one should be made less because of the color of your skin."
Headmaster Clark says she has offered her support to the affected students and she is working with the BPS Office of Equity and officials at UNH to ensure this incident is investigated and addressed.
"Each and every day, we strive to foster a safe, welcoming, supportive, and inclusive environment at Boston Arts Academy and throughout the Boston Public Schools. I commend our students for carrying on with integrity, maturity, and respect after this deplorable incident occurred," Clark said in her letter. "Boston Arts Academy is full of trusted adults, and we are always here for any students who wish to talk or are in need of counseling or other resources. Racism has absolutely no place in our society. We must do all that we can to support one another and stand up against this type of offensive behavior."