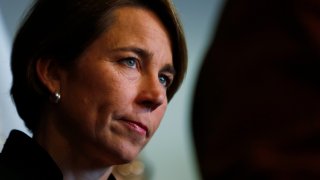 During an appearance Friday on GBH News, Massachusetts Gov. Maura Healey called on Supreme Court Justice Clarence Thomas to resign after recent revelations that he accepted gifts from conservative mega-donor Harlan Crow.
"I would like to see Justice Thomas go for any number of reasons, but certainly the inability to follow basic rules and norms," Healey said in response to a question from host Jim Braude. "It's just outrageous, he should go."
She called Thomas' actions "the height of hypocrisy."
"You're supposed to be administering the law, right, making people play by the rules and follow the law from the highest court in the land, and it seems time after time he's violating the most basic rules and norms and ethical obligations or at least the ethical obligations that would naturally extend to the rest of us in public office," Healey said. "It's embarrassing, it's obviously embarrassing for the United States Supreme Court, and I think it's a real question about whether he should continue to say."
Part of the problem, she said, is "they haven't had rules. It's interesting they enforce the rules, but they play by an entirely different set of rules from everyone else, including federal judges and state court judges around the country. To me, that's absolutely wrong. There needs to be reform there."
ProPublica, a nonprofit investigative journalism organization, reported earlier this week that for more than two decades, Thomas has accepted luxury trips nearly every year from Crow without reporting them on financial disclosure forms. That included international cruises on Crow's mega-yacht, private jet flights and stays at Crow's invitation-only resort in the Adirondacks.
Supreme Court justices, like other federal judges, are required to file an annual financial disclosure report which asks them to list gifts they have received. It was not clear why Thomas omitted the trips, but under a judiciary policy guide consulted by The Associated Press, food, lodging or entertainment received as "personal hospitality of any individual" does not need to be reported if it is at the personal residence of that individual or their family. That said, the exception to reporting is not supposed to cover "transportation that substitutes for commercial transportation" and properties owned by an entity.
In a separate report Friday, ProPublica said that Crow purchased three properties belonging to Thomas and his family in a transaction worth more than $100,000 that Thomas never reported. The 2014 real estate deal is the first public evidence of a direct financial transaction between the pair.
Citing state tax documents and property deeds, ProPublica reported that one of Crow's companies paid $133,363 for the home in Savannah, Georgia where Thomas' mother was living, along with two nearby vacant lots that belonged to Thomas' family members. Thomas mother remained living in the home, which soon underwent tens of thousands of dollars in renovations.
Federal officials, including Supreme Court justices, are required to disclose the details of most real estate transactions with a value of over $1,000. Thomas would not be required to report the purchase if the property was his or his spouse's primary personal residence, but this stipulation does not apply to this purchase, which Thomas did not report.
Both Thomas and Crow have released statements downplaying the significance of the gifts, with Thomas maintaining that he was not required to disclose the trips.
Early in my tenure at the Court, I sought guidance from my colleagues and others in the judiciary, and was advised that this sort of personal hospitality from close personal friends, who did not have business before the Court, was not reportable," Thomas said in his statement.
"I have endeavored to follow that counsel throughout my tenure, and have always sought to comply with the disclosure guidelines," he added.
Crow responded to the latest disclosure with a statement to ProPublica saying that he approached Thomas about the purchase with an eye on honoring his legacy.
"My intention is to one day create a public museum at the Thomas home dedicated to telling the story of our nation's second black Supreme Court Justice," the statement said. "Justice Thomas's story represents the best of America."
The Associated Press contributed to this report.