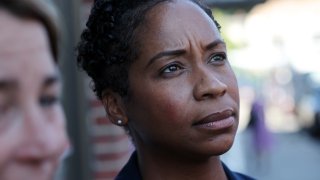 Massachusetts Attorney General Andrea Joy Campbell has announced that the state will start enforcing the automotive right-to-repair law on June 1, despite an ongoing legal challenge, according to The Boston Globe.
The law approved by voters in 2020 says that automakers must provide consumers and repair shops with "telematics" information so independent repair shops can have them as readily available as authorized dealers.
The Alliance for Automotive Innovation, a group consisting of the world's major carmakers, filed a suit against the law the moment it was approved by voters.
There has not been a ruling on the lawsuit yet.
According to the Globe report, because of this enforcement, car dealers in June will have to divulge the "telematics" data, a way to access the data and provide access to auto repair shops to make repairs. If they don't comply, they could be sued by repair shops or car owners for triple damages or $10,000.
"On behalf of all Massachusetts independent repair shops and 4,000 members statewide, we thank Attorney General Campbell for standing with the voters and their right to get their car fixed wherever they choose as automakers increasingly try to create a monopoly in the car repair market." the Massachusetts Right to Repair Coalition said in a statement Thursday.
"It has been more than 2 years since Massachusetts voters approved Right to Repair by a 75-25 margin and the Attorney General's action is a breath of fresh air for consumers and the independent auto repair market," they added. "During this delay, the automobile manufacturers have been unfairly steering new customers to their franchised dealerships, and consumers are losing. We urge the federal court to finally rule in this case and appreciate the Attorney General's action moving forward."