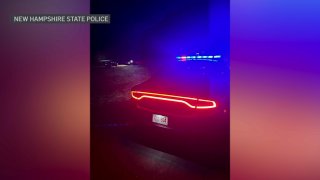 A 35-year-old man was allegedly driving intoxicated early Saturday morning when he was traveling the wrong way on Interstate 93 in New Hampshire.
State police say Wigberto Maldonado, of Lawrence, Massachusetts, is facing charges of reckless conduct, driving while intoxicated, and reckless driving following the incident on I-93 in Salem.
Troopers were clearing from an unrelated crash in the Salem area around 5:15 a.m. when they received multiple reports of a gray sedan traveling northbound in the southbound lanes from the state line in Salem.
According to police, one trooper located the vehicle and drove parallel to it while providing updates, which allowed a second trooper to get into position north of the vehicle's path and conduct a rolling roadblock to slow oncoming southbound traffic.
Police say the car came to a stop in the area of mile marker 6.4. The first trooper stopped his cruiser on the northbound side, ran across the median and apprehended the driver from the car on foot.
It was not immediately clear if Maldonado had obtained an attorney who could speak to the charges, or when he may be arraigned.
Local
In-depth news coverage of the Greater Boston Area.
Anyone with information on this incident is asked to contact Trooper Riley LaCroix at 603-223-4381 or Riley.J.LaCroix@dos.nh.gov.