The Massachusetts State Lottery has opened registration for residents fully vaccinated against COVID-19 to get their shot at $1 million.
Massachusetts residents ages 12 and up and who are fully vaccinated prior to each drawing are eligible to enter the Massachusetts VaxMillions Giveaway. Residents ages 18 and older who are fully vaccinated prior to each drawing will have the opportunity to enter to win one of five $1 million cash prizes. Residents between 12 and 17 years of age who are fully vaccinated prior to each drawing can enter for the chance to win one of five $300,000 scholarship grants.
"It's free money, I mean why not, you might be that millionth person to be able to get the millionth dollar, so it's worth a shot," Lawrence resident Fabricio Rodrigues said.
"I think that's pretty cool, I think it'll help people to want to get vaccinated, it gives them more of a motive I guess," said Ashley Defusco, who's already vaccinated.
Eligible residents can enter the giveaway at VaxMillionsGiveaway.com. For residents who don't have access to the internet or require assistance, a call center is available to assist with registration. The call center can be reached by calling 211 during the below hours:
Monday-Thursday: 8:30 a.m. to 6 p.m.
Friday: 8:30 a.m. to 5 p.m.
Saturday-Sunday: 9 a.m. to 2 p.m.
Live call center workers will be available in English and Spanish, and 100 additional languages will be available through translators.
VaxMillions Giveaway drawings will be held once a week for five weeks beginning Monday, July 26 and continuing every Monday through Aug. 23. The first drawing for the giveaway will occur on Monday, July 26, with registration for that week's drawing closing on Thursday, July 22. Winners will be announced later in the week following each drawing.
Residents still have time to get fully vaccinated in order to enter the drawings. An entry before one of the weekly entry deadlines makes you eligible for all of the weekly drawings that take place after you register.
The full schedule of drawing and announcement dates is below. The state said residents must receive both doses of their vaccine before entering the drawing.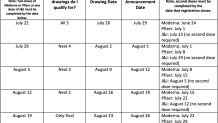 Residents must be fully vaccinated before registering, but if they are not vaccinated by the registration date for a certain drawing, they will still have the opportunity to complete vaccination and register for subsequent drawings.
The state launched its VaxMillions giveaway to increase awareness of the availability and efficacy of the COVID-19 vaccines and encourage residents to get vaccinated.
"I think that this is something that will inspire some folks who have not gotten the vaccine yet to get vaccinated, and I hope that one of those individuals that gets the million dollar prize is a Lawrencian," said Lawrence Mayor Kendrys Vasquez.
Vasquez says in communities like Lawrence where vaccination rates have been on the lower end, he's encouraged by the increase in vaccinations since the announcement of the lottery-like contest.
"Here in the city of Lawrence we have seen a very significant improvement in terms of vaccination data, especially over the last couple of weeks," he said.
At a vaccine clinic at city hall, several people were lining up Thursday to get their first vaccine, hoping to eventually be the big winners.
"I can do a lot of things with that money," said Modesta Jose, who just got her first shot.
Others already vaccinated also have big dreams for what they could do with that kind of money.
Alejandro Henriquez said if he won he would "pay off debt and buy a lot of toys."
"Probably go on vacation with my daughter," said Defusco.
"It's a nice incentive, I mean who doesn't want a million dollars and also to be safe with the vaccine," Laura Crossland of Lawrence said. "I mean it's a win-win."
Only legal, permanent residents of Massachusetts who are fully vaccinated can enter the drawings. Residents must have received their vaccine doses within Massachusetts.
If you're lucky enough to win, you do have to prove that you're a Massachusetts resident who has been fully vaccinated in the Bay State.
Residents seeking a vaccine can visit mass.gov/COVIDVaccine to find a vaccine location that is convenient for them.