The MBTA says a skateboard appears to be to blame for a derailment on the Green Line.
The train derailed shortly before 8 p.m. at Heath Street on the line's E Branch, the MBTA said.
The cause of the derailment is under investigation. The MBTA first said it seemed that the wheels had "interacted with debris on the tracks," later explaining it appeared to have hit a skateboard.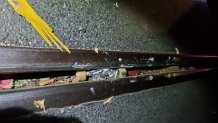 "While the investigation remains very much active, it does appear that the train struck a skateboard which wedged between wheels and the rail," the MBTA said in a statement.
Service terminated at Brigham Circle due to the derailment, the MBTA said, tweeting shortly after 10:30 p.m. that regular service had resumed. Passengers had been told to use the 39 bus for alternative service.
No one was injured in the incident, the MBTA said.
"I do wish I saw less of this happening," said Ari Ofsevit, who sits on the board of Transit Matters, a transportation watchdog group. "I wish we all could decide that having a reliable, functional transportation system was important to the commonwealth."
Those struggles on the MBTA were a major topic earlier at Tuesday night's debate between Boston mayoral candidates Michelle Wu and Annissa Essaibi George.