It's a hot start to Memorial Day weekend across New England, with highs surging into the 80s and low 90s by Friday afternoon. A gusty southwest wind will be refreshing and will keep the south coast, Cape, and the Islands in the 70s.
Changes really start to take place across New England on Saturday.
In southern New England, a southwest wind will bring more heat and humidity. Highs will be in the 80s to near 90. In northern New England, an approaching cold front will bring cooler air in the 70s.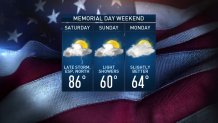 The real battle zone between those different air masses — central Vermont through central New Hampshire down towards northeastern Massachusetts — will start warm and then dramatically drop later in the day. As that drop happens, expect some scattered showers and thunderstorms.
The cold front continues to sag south after that, bringing all of us into a cool east wind on Sunday. Highs, as a result, will be in the 50s near the coast, with 60s inland. We'll also have lots of clouds and periods of generally light showers. The best chance of staying dry is in far northern New England.
Timeline, Expectations for Memorial Day Weekend Weather
Local
In-depth news coverage of the Greater Boston Area.
Monday should be a bit better, with temperatures in the 60s at the coast for highs. We'll climb closer to 70 inland. It'll still be mostly cloudy with a few spot showers, but many of us will have lots of dry times.
More sunshine and mild air returns after the holiday for the middle of next week.