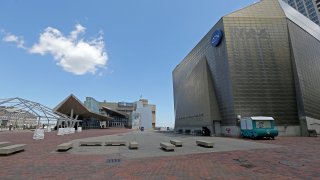 The New England Aquarium is kicking off this new summer season with a brand new beer garden, extended visiting hours and a world premiere.
Central Wharf Plaza will debut the new Dockside Beer Garden with beers from Cisco Brewers and Kona Brewing to accompany the waterfront atmosphere. It will also have a menu that will include barbeque ribs, pulled pork and chicken, burgers, and cornbread.
The grand opening of the Dockside Beer Garden will take place on Saturday, May 27th. Get all the information about the beer garden here.
On Memorial Day weekend, the New England Aquarium will also have the film premiere of Blue Whales: Return of the Giants 3D. Tickets can be purchased here.
Beginning May 28 through Labor Day, the Aquarium will be open seven days a week from 9 a.m. to 6 p.m.