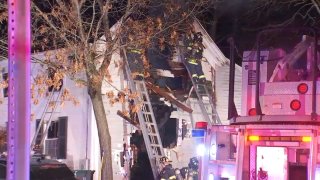 No injuries were reported in a fire overnight at a home in Natick, Massachusetts.
Natick fire said they received a call at 12:43 a.m. for a reported fire on Pond Street.
When they arrived, they found that a single-family home was on fire.
No one was injured in the fire, officials said. It wasn't clear if anyone was inside the home when the fire broke out.
Fire crews were still on scene as of 4 a.m. Tuesday.
The cause of the fire remains under investigation, officials said.