Police are searching for a dog that was stolen from the Animal Rescue League of Boston over the weekend.
According to the ARL, a 55-year-old Boston man entered the adoption center with a woman around 3 p.m. Sunday and showed interest in "Nick," a 3-year-old male, white and gray pitbull-type dog.
After a short conversation about adoption and the dog, the man left his Massachusetts driver's license with animal rescue league staff and took the dog for a walk with the woman.
They never returned.
Boston police and animal control have now been alerted to the missing dog and are attempting to locate it.
The suspect is described as approximately 5'9". He was last seen wearing black pants, a blue hooded sweatshirt, a tan jacket, a baseball hat and glasses.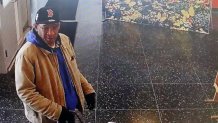 Anyone who spots the dog or the suspect is asked not to approach them, but to call 911 immediately.