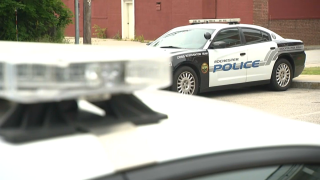 A 76-year-old New Hampshire man was arrested Wednesday on suspicion of having images showing child sex abuse as well as simple assault.
Paul Patsalis, of Rochester, had been wanted on felony and misdemeanor charges, local police said, and previously seen Tuesday in the New Hampshire city.
We just learned that police followed up on an anonymous tip and took the suspect into custody without incident at an undisclosed location this afternoon.
Police followed up on an anonymous tip and took Patsalis into custody without incident Wednesday afternoon, authorities said.
Rochester police said Patsalis was spotted by an alert adult Monday at the Rochester Commons while officers were investigating a child sex abuse images case. He was talking to a 5-year-old girl while holding her stuffed animal and apparently her back.
When confronted by the adult, who called 911, Patsalis fled in a black, four-door Volkswagen Passat, police said.
It wasn't immediately clear if he had an attorney who could speak to the charges.