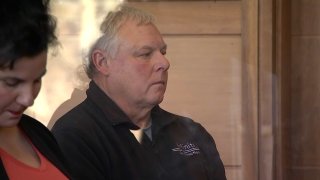 Three more police officers have been suspended by the Massachusetts Peace Officer Standards and Training Commission, including a retired Rowley officer who has been charged with rape.
The newly-established POST Commission is a major part of police reform in the state and has said it intends to give updates at the beginning of each month. The three suspensions announced Wednesday bring the total to 22.
The NBC10 Boston Investigators have previously reported on Perry Collins, who retired last spring from the Rowley Police Department, where he had worn a badge for more than 30 years. He was off-duty but still working for the department when he allegedly raped a woman who was known to him.
Also suspended Wednesday were Kevin Johnson of the Hudson Police Department and Sean Malone of the Mendon Police Department. There was no immediate word on the reasons for their suspensions. Malone was introduced as a new officer with his department two years ago in a social media post.
The commission has previously explained that it is "directed by statute to suspend the certification of an officer who is arrested, charged or indicted for a felony and will revoke the certification of an officer who is convicted of a felony." It adds that each suspension will remain in effect "until a final decision or revocation is made by the Commission."
Additionally, the POST Commission has published a list of Massachusetts officers classified as "not certified." There are 267 names on that list as of Feb. 20.
"Officers on this list are not certified because they have either failed to complete the required training, are out on excused leave, or their situation involves a disciplinary matter," the POST Commission explained in a statement. "Officers who have retired or resigned in good standing are not included on this list."
Late last year, the POST Commission released a public database of recertified officers.