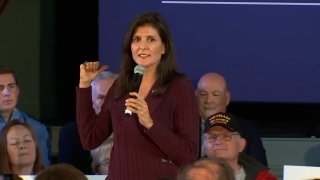 Presidential hopeful and former South Carolina governor Nikki Haley will be in New Hampshire this week, as she hosts three town halls in hopes of enticing Republican voters.
This week will mark the third time that Haley has paid a visit to the Granite State since launching her presidential campaign. During her visit, Haley will host town hall events in Bedford, Henniker and Laconia. The first of the town halls will be held on Wednesday at 6:30 p.m. at Murphy's Taproom and Carriage House in Bedford.
The 51-year-old Republican launched her presidential campaign in February. She served as governor of South Carolina from 2011 to 2017, and then as ambassador to the United Nations for about two years.
More New Hampshire News