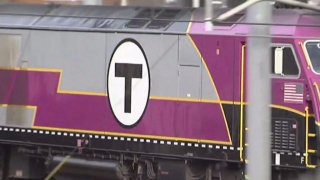 The quick action of an MBTA commuter rail engineer saved the life of a woman police say was suicidal.
According to Cohasset Police, a Greenbush line train was coming around a bend in their town just before 11 a.m. Tuesday when the engineer saw a woman lying on the tracks between the Pleasant and Pond street crossing. He immediately pulled the train into "emergency" mode and was able to stop before hitting her.
The woman, who lives in Cohasset, told police she was trying to end her life. She was taken to the hospital.
If you or someone you know needs help, please contact the Suicide and Crisis Lifeline by calling 988, call the National Suicide Prevention hotline at 1-800-273-8255 or reach out to the Crisis Text Line by texting 'Home' to 741741 anytime.
"We are so grateful that the MBTA/Keolis engineer, and conductor, were well trained and quick acting. Their fast actions absolutely saved a life today," Cohasset Police Chief William Quigley said in a media statement.
The train was traveling about 30 mph before the stop. No one was hurt. Service was delayed for about 30 minutes.