Rain moves in and continues throughout Sunday. We can expect a wind mainly out of the East, and chilly temperatures in the lower 50's.
As much as 1 1/2 inches of rain area possible throughout the day Sunday, and some minor street flooding is possible.
Monday is cloudy, and the rain continues. High temperatures are generally in the middle 50's. Tuesday is cloudy, with showers and drizzle likely throughout the day. Again, high temperatures stay on the cooler side in the middle 50's, and winds will continue to be mainly Easterly.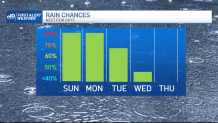 Wednesday is mostly cloudy, and could give us a brief chance to see the sun break out in the afternoon. Otherwise, some showers are possible, as well as pockets of drizzle throughout the day. Highs in the middle and upper 50's. Thursday is again, mostly cloudy, with the chance of passing showers or drizzle, highs in the middle and upper 50's.
Friday is mostly cloudy, but gives us a better chance at some sunny breaks in the afternoon. Highs are in the middle 50's. Saturday is partly sunny, with a passing shower chance, again, the chance of some sunshine is possible throughout the afternoon.