A well-known radio employee has died after he was shot in the head inside his Hyannis, Massachusetts, home, the Cape and Islands District Attorney said Thursday.
Barnstable police found Eric Christensen, 50, unresponsive on the kitchen floor of his Oakview Terrace home just before 6 p.m. Wednesday. The Hyannis Fire Department rushed him to Cape Cod Hospital with an apparent gunshot wound to the head, where he was later pronounced dead.
No arrests have been made. Investigators are working to determine who is responsible for Christensen's death, which left the Cape Cod community in shock Thursday.
Many in the area said they were in total disbelief after learning Christensen had been killed. Friends and family say Christensen grew up on the Cape, and is very well-known in town.
Longtime friends dropped flowers off Thursday night, holding back tears.
"He was just a kind man. He was so nice to everybody," longtime friend Joanne Giannine said. "I'm shocked. Everybody's shocked."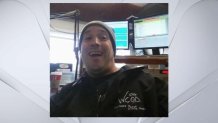 The district attorney said Christensen was shot to death in his kitchen, and a bullet hole could be seen through his back window on Thursday. A neighbor told NBC10 Boston that police were looking for the gun Wednesday night and all Thursday.
Local
In-depth news coverage of the Greater Boston Area.
Several neighbors said they watched as law enforcement rushed to Christensen's home Wednesday evening. Some said they heard the gunshots.
"We were actually doing the dishes at the moment, in the kitchen, the side of the house that's actually facing that house. So we heard it loud and clear," said neighbor Elizabeth Pineda, who lives in a separate neighborhood behind Christensen's house through the woods.
Pineda told NBC10 Boston that she believes the shooter cut through her backyard area to get in and out undetected.
Neighbors at the front of the house thought the same thing, saying they didn't see anything suspicious on their side.
"We did not see a vehicle come in or out in that time frame," one man who lives near Christensen said.
Christensen lived at the Oakview Terrace home with one roommate, who he rented a room to.
NBC10 Boston spoke to that man briefly off camera Thursday and he told us he was very upset after just losing a friend.
"It's very sad," Pineda said. "No matter who you are, you don't deserve this kind of way to go."
There has been an outpouring of support and sympathies shared on social media, with some saying Christensen was like a brother to so many people.
Christensen's death is being investigated as a homicide by Barnstable police and Massachusetts State Police detectives assigned to the district attorney's office.