A seven-car pileup on Interstate 95 south in Needham, Massachusetts, caused traffic problems on Friday morning.
The crash was reported shortly after 8 a.m. on I-95 south near Exit 35 for Highland Avenue, according to the Massachusetts Department of Transportation.
State police said seven cars were involved in the crash. There is no word yet on whether anyone was injured.
Both the right and center lane were temporarily closed, but the scene was cleared and all lanes reopened by 9 a.m.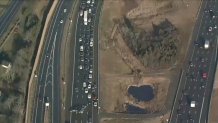 The crash caused some significant delays during the morning commute.