Walk into Knight Moves Cafe in Brookline and you are greeted by the smell of coffee and the sight of thousands of board games. Board games seem to pour out of every crevice and fill every corner of the shop.
When it opened in 2013, Knight Moves was the first board game cafe in New England and one of just a few in the entire country. Today, there are at least five other board game cafes in Boston alone.
The cafe welcomes a steady stream of regulars, board game enthusiasts and curious visitors every day.
"In 2013, board games really hadn't hit yet, but they've gained so much momentum," says Knight Moves owner Devon Trevelyan. "The industry is just booming right now."
Trevelyan has always had a passion for games. His family was game-oriented, he says, playing games like trivial pursuit on a frequent basis when he was younger. In high school, his chess team won the chess state championship and competed in nationals.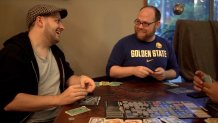 It was when Trevelyan was working at Eureka Puzzles, a puzzle and game shop in Brookline, that he had the idea to open a board game cafe. Influenced by his love of board games and the cafe culture he experienced while studying abroad in Prague, Trevelyan decided to quit his job at Eureka Puzzles and open Knight Moves.
Local
In-depth news coverage of the Greater Boston Area.
"We don't really have a lot of cafe culture in the U.S. It's more bar culture," Trevelyan said. "I wanted to bring that vibe where you can go out, have conversations and talk until late at night."
Trevelyan admits that he was nervous when he opened the cafe five years ago. He wasn't sure if it would gain traction. But the shop has certainly gained traction and doesn't appear to be slowing down anytime soon.
"People just kept showing up," Trevelyan says with a smirk.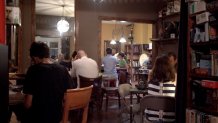 Today, the cafe is thriving, even attracting crowds on weekday nights. On Fridays and Saturdays, it stays open until 2 a.m. and it isn't rare to see a crowd at that time.
"It's a very laid back atmosphere. It's not pretentious in any way," says Jon Ritter, co-founder of Lay Waste Games and a patron of Knight Moves. "I like coming to Knight Moves because they have over two thousand games which is ridiculous."
It can be overwhelming selecting which game to play, but the staff are there to assist anyone looking for a recommendation.
Knight Moves has received so many board game donations from visitors and board game companies that there is an overflow room in the basement.
"What a wonderful place to hang out in the city and play games with my friends," says J.R. Honeycutt, co-founder of Waitress Games and another patron of Knight Moves. "The atmosphere is wonderful. It's just a great place to hang out."
"It's a home away from home," says Richard, another patron.
Creating a relaxed environment that feels like a living room is exactly what Trevelyan envisioned when he opened the cafe.
"We want to slow life down a little bit. It's not a turnover-based business," he says. "We want people to come, have a good time and really enjoy themselves."
Patrons pay an entrance fee of $5 or $10 based on the day to gain access to the cafe's large game selection. Once they pay the fee, they can stay as long they want.
Trevelyan opened a second Knight Moves Cafe in Somerville in 2016. Although he doesn't have any specific plans for expanding further, he said he is open to the idea of opening more locations. However, he said that it's a requirement that every Knight Moves is a part of the community it's in and builds from there.
Have something you'd like to add to the Boston Bucket List? Tweet your idea to @NBC10Boston with the hashtag #BostonBucketList.