One person is under arrest in connection with a double stabbing on Boston Common Wednesday afternoon.

Police said one of the victims was riding a skateboard when he was stabbed at about 5:30 p.m.
Boston Police Commissioner William Evans said one victim had been stabbed in the stomach and was in critical condition at Tufts Medical Center. The other victim suffered a superficial wound to his back.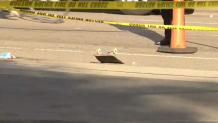 At least three suspects fled the scene on foot to a nearby T station but were quickly apprehended by police. One of those suspects was taken into custody and is expected to face charges.
Evans said authorities believe it was a fight between two groups of people that led up to the stabbing.
"When two groups meet each other, unfortunately they had their disagreement and the only good thing is let's pray that the individual make it. But we got who's responsible," Evans said.