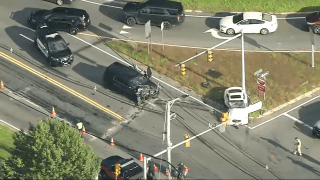 A police cruiser was involved in a crash that left two vehicles wrecked near Interstate 93 in Wilmington, Massachusetts, Tuesday, authorities said.
The crash took place about 4:45 p.m. on Concord Street, near the ramps to the highway, according to the Wilmington Police Department.
The drivers of both vehicles were taken to the hospital and are expected to survive.
Aerial footage showed an SUV with serious damage to its hood and front end, and a car with a wrecked passenger's side.
Concord Street was shut while investigators examined the scene, but later reopened.
State police said Wednesday that the cruiser was one of three heading to the scene of an assault in progress, all with their sirens blarn, and was hit by the car, which was trying to turn onto an I-93 on-ramp.
Local
In-depth news coverage of the Greater Boston Area.
The driver, a 57-year-old man from Grafton, was cited for failing to yield to an emergency vehicle. He and the police officer driving the cruiser had minor injuries, police said.