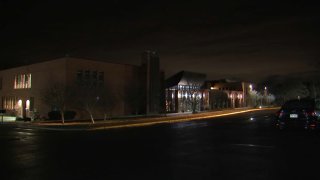 A Massachusetts high school is investigating after a swastika was drawn in dirt on a Jewish student's car.
Superintendent Beth McCoy of the Dover Sherborn Regional School District said the incident occurred last week at Dover-Sherborn High School. She said police and the Anti-Defamation League had been notified.
"The presence of a swastika on our campus on the vehicle of one of our students compels us to unequivocally reaffirm our commitment to keeping every student safe from any kind of harm, and to forcefully denounce antisemitism in any form," she said in a statement. "Our hearts and our resolve go out to the student who had to suffer this assault on their sense of safety, identity, and belonging — and to all members of our community who live with the risks that antisemitism represents."
In an email to the school community Thursday, McCoy said Principal John Smith had told students and staff about the incident this week "and created opportunities for the high school community to work together to reflect on this horrible event, take care of each other, and mobilize in order to prevent or intervene in any further acts of bias."
NBC10 Boston has reached out to the Dover Police Department, but has not heard back.