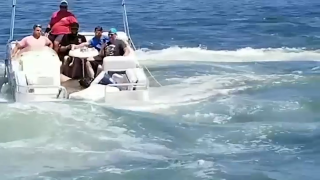 There were plenty of wild videos in 2021. There was the video of the so-called "megalodon" spotted off Massachusetts, and the diver who was swallowed by a humpback whale. And who could forget the viral video of Gloucester boating blunders?
Click here to see the most-read NBC10 Boston stories of 2021.
Here's a quick look at the 10 videos that generated the most views on NBC10Boston.com this year:
1. Massive shark caught on camera off New England coast
2. COVID Q&A: Top Boston doctors talk child vaccines, delta plus and booster side effects
Local
In-depth news coverage of the Greater Boston Area.
3. Teen mom leaves newborn baby with customer at NJ restaurant
4. Diver swallowed by humpback whale
5. Donnie Wahlberg's special message for boy whose concert T-shirt was stolen
6. Henri upgraded to hurricane, southern New England at high risk for impact
7. Two arrested in Wakefield armed standoff
8. How Massachusetts is working to combat vaccine hesitancy
9. Thousands of breakthrough COVID-19 infections reported in Mass.
10. Boating blunders in Gloucester canal go viral