Harvard, MIT, Boston College — Massachusetts is known for top universities. This school claims to be among them.
But the state says that Massachusetts Central University, whose website claims it's in the top 2% around the world, is fake, a fraud that first bubbled up two years ago and has returned. The Massachusetts Department of Higher Education said it plans to follow up with the people behind the website with the URL mcu.university, but which it already had to send a cease-and-desist order about before.
Massachusetts Central University — not to be confused with the Marvel Cinematic Universe, with which it shares its initials — claims to be "one of the accredited online universities that offer an extensive range of majors precisely designed for professionals and working adults." The sophisticated website has a video showing a campus and classes, lists faculty and areas of study and links to active social media sites.
Many if not all of the images appear to be stock photos — one was taken by the same photographer behind the popular meme known as "Distracted Boyfriend," Antonio Guillem.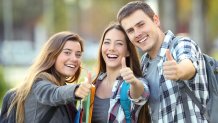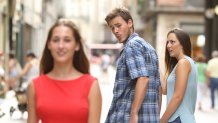 A phone call to the 617 number listed on the website wasn't picked up, and requests for comment from The Boston Globe, which first reported on the website, went unreturned as well.
The Massachusetts Department of Higher Education told NBC10 Boston that it's notified both the state attorney general's office as well as the University of Massachusetts — the address listed on the MCU website is the Integrated Sciences Complex at UMass Boston, though there's no apparent connection between the two organizations. Officials said that anyone who's been misled by the scheme should file a complaint at mass.edu/forstufam/complaints/complaints.asp or by calling the attorney general's consumer hotline at 617-727-8400.
The office of Attorney General Andrea Joy Campbell also said it was taking the matter seriously.
Paula Fleming, the chief marketing and sales officer for the local Better Business Bureau and the parent of a high school senior, said the scheme appeared to be what's known as a diploma mill, a business that offers fake college graduate diplomas for money, even though diplomas from institutions that aren't accredited are seen as fake and can have legal consequences.
"I find it very disturbing to hear that there is a diploma mill locally advertising and trying to get people to give their hard earned money," Fleming told NBC10 Boston.
Fleming said that people interested in online education shod research the school, checking the website for grammatical errors, digging into their social media and cross-checking information with the Department of Education.
The BBB offered these tips:
Make sure it's accredited. The Council on Higher Education Accreditation or the U.S. Department of Education should recognize the school. Visit these websites and search for your school to find its Accreditation Information. If you can't find your school on either of these websites, it may not be an accredited school. Aside from that, also keep an eye out for programs that ARE accredited, but NOT by the two above agencies. Anyone creating a fake business can also create a fake accreditation, which often happens with scams.
Don't be fooled by your temptation. Diploma mills will state that you can fill out a form, upload your resume, and enter your credit card information to receive your diploma. Although those seemingly "quick and easy" programs are the ones you'll want to gravitate towards, those catchy slogans should serve as a red flag.
Beware of a program that requires a lot of money upfront. Most colleges will bill you based on the number of credits or courses you take each semester. A diploma mill will probably ask for a flat fee to sign up.
Look for evidence of student services. Colleges will always have student resources. These include a page for the library, a list of classes, a staff directory, advising, and more. You should be suspicious if there aren't any resources for students to show substantial coursework and interaction with professors