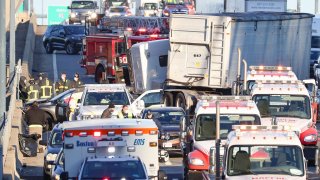 Several people were injured in a multi-vehicle crash on Boston's Zakim Bridge involving a jackknifed tractor-trailer Wednesday morning.
State police responded to the crash on Interstate 93 southbound around 7 a.m. Multiple lanes on the bridge -- as well as two exit ramps -- were temporarily as emergency crews responded.
The scene was cleared and all lanes were open by around 9:10 a.m.
No further information -- including on the severity of the injuries -- were immediately available.