A tractor-trailer hauling cheese and operated by an allegedly drunken driver rolled onto its side early Thursday morning, causing major delays and shutting down part of Interstate 93 in Milton, Massachusetts.
The crash happened in the area of Squantum Street just off of Exit 10 around 1:30 a.m. The truck was traveling southbound on I-93 and rolled over onto the exit ramp, damaging guard rails and taking down power lines.
The driver, Eri Pleitez, 43, of Lynn, Massachusetts, was charged with operating under the influence of liquor, negligent operation of a motor vehicle and marked lanes violation. He was arraigned in Quincy District Court on Friday morning and bail was set at $2,500 cash or $25,000 surety bond, which was posted. He was ordered not to drive without a license.
State police have confirmed the truck belongs to Viking Land Transportation Systems Inc., based out of New Ulm, Minnesota.
Prosecutors said Pleitez told police he drank six beers at a birthday party in Chelsea around 10:30 p.m. Thursday - three hours before the crash. He failed a field sobriety test and his blood alcohol content was .11.
He said a black truck cut him off on the highway, which caused the accident.
Local
In-depth news coverage of the Greater Boston Area.
Both northbound and southbound lanes near Exit 10 were temporarily shut down while workers worked to clear the downed wires on Friday morning.
The ramp to Exit 10 reopened just before 4 p.m. for the evening commute. The electrical pole remains downed and I-93 will be closed intermittently after midnight to allow for repairs to the downed wires. The work is expected to be completed in time for the Friday morning commute.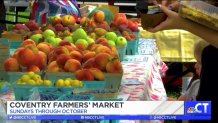 The tractor trailer was reportedly traveling from Chelsea, Massachusetts to Connecticut. A fire official said 38,000 pounds of cheese and other dairy products that were in the tractor trailer will have to be unloaded by hand before the vehicle can be placed upright.
The rollover knocked out power for over 180 customers, according to Eversource.
No injuries were reported.
Driver Charged with OUI After Tractor-Trailer Rolls Over in Milton, Massachusetts
Copyright AP - Associated Press