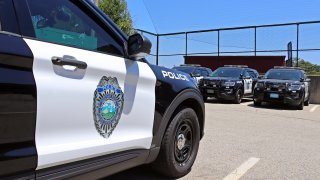 World War I medals, jewelry, cash, two pairs of high end sneakers and a new PlayStation 5 were among the items stolen during a burglary at a Hingham, Massachusetts, condominium over the holidays.
A resident of the Adams Court condo complex reported that someone broke into their home between 1 p.m. Dec. 29 and 3 p.m. on Dec. 30 while they were away, Hingham police said. Entry was gained by forcing the rear door open, separating the deadbolt from the door frame. Rooms were ransacked and multiple items were stolen, police said.
Dresser drawers in the bedrooms were pulled out and contents tossed around, and a pillow case was stolen from one of the bedrooms.
The exact value of the stolen items was not given by police.
No arrests have been made.
The Adams Court condo complex is located between West Street, Beal Street and Bare Cove Park Drive near the Hingham Light Plant and Hingham Department of Public Works buildings. Anyone who noticed anyone or any vehicles in that general area during the timeframe when the burglary occurred is asked to contact Detective Michael Gervasi at 781-741-1443.