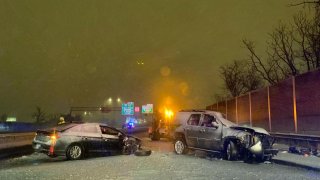 Massachusetts State Police are investigating the death of the driver of a vehicle traveling the wrong way on Interstate 93 in Boston early Saturday morning.
According to state police investigators 31-year-old Richard Crawford, of Everett, was traveling southbound on the northbound side of the highway near Columbia Road around 2:30 a.m. when he struck two vehicles traveling the correct way northbound, including a Logan Express bus. Crawford's SUV continued and also struck a third vehicle.
Crawford was pronounced dead at the scene, state police officials said.
Two of the other drivers were taken to the hospital with non-life-threatening injuries. The third did not go to the hospital. The passengers on the bus were not hurt.
State police continue to investigate the crash.