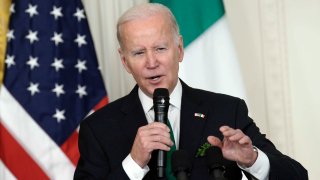 President Joe Biden will travel to the United Kingdom and Ireland next week in part to help mark the the 25th anniversary of the Good Friday accord, a U.S.-brokered agreement that helped end decades of deadly sectarian violence in Northern Ireland.
Biden will first visit Belfast, Northern Ireland, which is part of the U.K., from April 11-12 to mark progress since the Belfast/Good Friday Agreement was signed a quarter century ago and to underscore U.S. readiness to support Northern Ireland's economic potential, the White House said.
Biden will then spend April 12-14 in the Republic of Ireland, holding engagements in Dublin, County Louth and County Mayo, where he will deliver an address celebrating the "deep, historic ties" between the United States and Ireland, the White House said.
Signed on April 10, 1998 — which was Good Friday — the landmark accord helped end three decades of sectarian violence over the issue of Northern Ireland uniting with Ireland or remaining in the United Kingdom.
The anniversary is being marked with celebration that peace has endured, but concern about entrenched divisions and political instability. And the specter of violence has not wholly disappeared — last month U.K. intelligence services raised the terrorism threat level for Northern Ireland from "substantial" to "severe."
Asked whether the heightened terrorism threat level would affect his plans to visit, Biden, who is proud of his Irish heritage and has long wanted to visit Ireland, said it would not.
"No, they can't keep me out," he said last month.
The agreement has come under increasing stress following the U.K.'s exit from the European Union. A recent accord known as the Windsor Framework between the U.K. and the EU addresses some of the issues that arose around commerce and goods that cross the Irish Sea from Great Britain to Northern Ireland.
Biden, who quotes Irish poets quite often, recently praised the Windsor Framework as an important step in maintaining the peace accord, though Northern Ireland's political leaders have called for changes.
"It's a vital, vital step and that's going to help ensure all the people in Northern Ireland have an opportunity to realize their full potential," Biden said of the framework during remarks at a Capitol Hill luncheon on St. Patrick's Day.
Biden had hosted Irish Prime Minister Leo Varadkar in the Oval Office and at a White House reception on the holiday, a tradition that had been scuttled in recent years by the coronavirus pandemic.
Varadkar promised Biden a jolly good time when he visits.
"I promise you that we're going to roll out the red carpet, and it's going to be a visit like no other," Varadkar told Biden in the Oval Office. "Everyone is excited about it already. We're going to have great crowds who would love to see you."
The last U.S. president to visit Belfast was Barack Obama in 2013.
Copyright AP - Associated Press