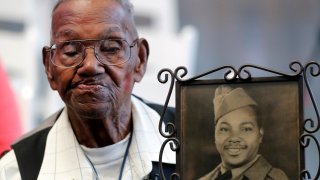 Two lawmakers re-introduced legislation Tuesday that would award GI Bill benefits to the descendants of Black veterans who failed to receive assistance to attend college or buy homes or businesses in the post-World War II years.
The move came a day after NBC published an article about how the country is still grappling with how to right a wrong that lifted many more white veterans into the middle class while exacerbating the wealth gap with which Black Americans still struggle.
The article was accompanied by a national report that streamed on NBC News Now and by broadcast reports that appeared on five NBC local stations.
Democratic Reps. James Clyburn of South Carolina and Seth Moulton re-introduced the the GI Bill Restoration Act in the House.
Read the original article here.