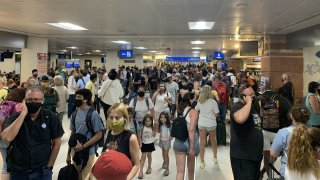 Southwest Airlines said late Monday it was resuming operations after an issue with its weather data provider grounded hundreds of flights nationwide.
"While Southwest Teams and the vendor worked to restore connectivity, we implemented a ground stop to protect the Safety of our Crews and Customers," the airline said in a statement Monday night announcing flight operations had resumed.
The airline tallied more than 1,400 delays Monday — nearly 40% of those scheduled, and the most of any airline on the planet, according to Flightaware, a site that tracks global airline cancellations and other issues.
In replies to a barrage of complaints on its official Twitter page, airline representatives apologized to customers and said the company was working to resolve the problem "ASAP."