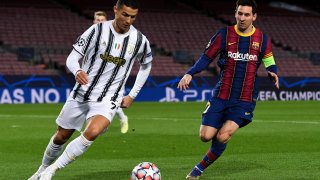 How much money would you pay to meet Lionel Messi and Cristiano Ronaldo as the two soccer legends square off for possibly the last time?
For one fan, the answer was in the millions.
A "Beyond Imagination" ticket to Thursday's exhibition match between Paris Saint-German and the Al Nassr-Al Hilal All-Stars in Saudi Arabia was sold for more than $2 million at auction.
Bidding for the special ticket, which was auctioned off by Saudi Arabia's General Entertainment Authority (GEA), opened at around $270,000 and closed for $2.6 million on Tuesday. The winning bidder was Saudi Arabian businessman Mushref Al-Ghamdi, GEA chairman Turki Alalshikh announced.
How to Watch Lionel Messi, Cristiano Ronaldo in PSG Vs. Saudi Arabia All-Stars Friendly
The "Beyond Imagination" ticket comes with several VIP perks, most notably of which is the chance to meet Messi and Ronaldo, in addition to Neymar and Kylian Mbappe. Al-Ghamdi will also have access to the locker rooms and trophy presentation, and get to take a group picture with the winning team.
Proceeds from the ticket auction will go to Ehsan, the national platform for charitable work in Saudi Arabia.
The match will be Messi and Ronaldo's first meeting since December 2020, when Juventus and FC Barcelona squared off in the Champions League. Both superstars have since moved to different clubs, with the 35-year-old Messi joining PSG and the 37-year-old Ronaldo first reuniting with Manchester United before recently going to Al Nassr following a dramatic split with the English Premier League side.
The latest Messi-Ronaldo clash will mark Ronaldo's first game in Saudi Arabia since he joined Al Nassr. Ronaldo and a team comprised of players from both Al Nassr and Al Hilal will be pitted against Messi, Mbappe, Neymar and Co.
The friendly at King Fahd International Stadium in Riyadh begins at 12 p.m. ET.