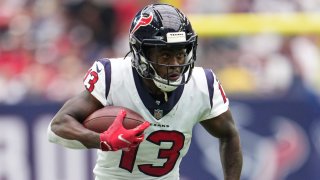 Report: Cowboys acquire WR Brandin Cooks from Texans originally appeared on NBC Sports Philadelphia
The Dallas Cowboys have a new weapon.
The team reportedly acquired wide receiver Brandin Cooks from the Houston Texans in exchange for a 2023 fifth-rounder and a 2024 sixth-rounder.
Cooks, 29, has now been traded four times in his career after previous stints with the New Orleans Saints, New England Patriots and Los Angeles Rams. He played in consecutive Super Bowls for the Patriots and Rams, losing both times to the Eagles and Patriots, respectively.
Since being drafted in the first round by New Orleans in 2014, Cooks has six 1,000-yard receiving seasons. Last year was one of his worst statistically though, with 57 catches for 699 yards and three touchdowns in 13 games.
Dallas' hope will be that he returns to his usual form now that he's paired with a star wideout in CeeDee Lamb. The Cowboys lacked a consistent second option last season after trading Amari Cooper, and their second-leading receiver from 2022 -- tight end Dalton Schultz -- is currently a free agent. Noah Brown, their third-leading receiver last season, signed with the Texans as a free agent.
The NFC East continues to load up during a busy first week of the new league year.
Copyright RSN