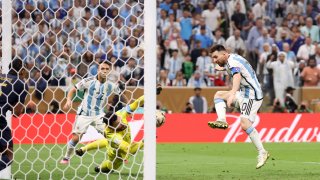 Who else?
Lionel Messi put Argentina on top 3-2 over France in the 2022 FIFA World Cup Final on Sunday on a chaotic sequence in the 108th minute.
Lautaro Martinez's strike was just kept out by Hugo Lloris, but the loose ball found Messi for the goal.
There was initially a concern that Martinez was offside when he received the pass on the edge of the box, but the goal stood as he was just onside.
Messi, who scored a penalty in the 23rd minute, collected his seventh goal of the tournament as the ball evidently passed the line.