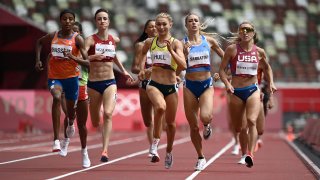 It all comes down to this -- Tokyo Olympic Games are nearing their conclusion. There are some exciting gold medal games to watch.
On Friday, US women's basketball and volleyball both defeated Serbia in semifinal events, securing their advancement to the finals. Meanwhile, a runner from Vermont will race in the women's 1,500m.
Also, April Ross and partner Alix Klineman took the gold Thursday, defeating Australian duo Mariafe Artacho and Taliqua Clancy in the women's beach volleyball final.
Here's how to watch these final events and more:
US women's basketball beats Serbia, will play for gold
The U.S. women's basketball team is one win away from a seventh straight gold medal.
After a 79-59 win over Serbia in the semifinals, Team USA advances to face the winner of Japan and China in the final on Saturday at 10:30 p.m. ET. The team will look to tie the U.S. men's basketball team's record for most consecutive gold medals in a team sport.
The U.S., which won its 54th straight game, held Serbia to 30 percent shooting in a strong defensive performance.
Brittney Griner finished with 15 points and nine rebounds and Chelsea Gray added 14 points on 5-for-6 shooting to lead the United States.
Team USA's 4x100m relays highlight stacked track and field action, Vt. runner places 10th in women's 1500m
The stars were under the bright lights of Tokyo's Olympic Stadium on Friday. 
The session, which began at 6:50 a.m. ET, featured six intriguing finals: women's javelin throw, men's 5000m, women's 400m, women's 1500m, women's 4x100m relay and the men's 4x100m relay.
Among them was Vermont runner Elle Purrier St. Pierre, who placed 10th in the women's 1500m final race. Purrier St. Pierre, who grew up on a dairy farm in Montgomery, Vermont, and graduated from the University of New Hampshire, is competing in her first Olympics.
Allyson Felix is making her fifth Olympic appearance in Tokyo and is hoping to add to her historic medal totals. She won silver in the women's 400m in Rio and among the medal contenders in the event once again.
The Jamaican women went a level above the American men in the 100m, sweeping the podium. Still, the American women come into the 4x100m final as the two-time defending Olympic champions and set the record at the 2012 London Games
Maggie Malone is the United States' lone competitor in the women's javelin final after she posted the second-best overall result in qualifying, trailing only Poland's Maria Andrejczyk. Malone is making her second Olympic appearance and attempting to become the first American woman to medal in the event since 1976.
Paul Chelimo, who posted the second-fastest overall time in the men's 5000m heats, will be joined by fellow American William Kincaid in the final, while there are no American racers in the women's 1500m final.
Watch on Peacock, or stream live here.
April Ross, Alix Klineman win beach volleyball gold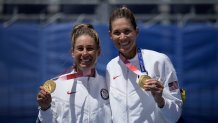 April Ross and Alix Klineman are Olympic champions.
The United States' top women's beach volleyball pair took down Australia's Mariafe Artacho del Solar and Taliqua Clancy in straight sets in Thursday night's gold medal match.
Ross and Klineman took the first set, 21-15, before sealing gold in the second set, 21-16. The victory completes a perfect 7-0 run to the top of the podium for Ross and Klineman, as they became the second American pair to ever go undefeated at the Olympics. Misty May-Treanor and Kerri Walsh Jennings accomplished the feat three times (2004, 2008, 2016).
Ross and Klineman rolled through the preliminary round, dropping just one set total across three matches. That dominance carried over to the knockout rounds, where they won all four of their matches in straight sets.
Ross, who won silver in 2012 and bronze in 2016, completed her Olympic collection with the elusive gold. In doing so, the 39-year-old topped former teammate Kerri Walsh Jennings' record as the oldest woman to ever medal in Olympic beach volleyball. Klineman, 31, was making her Olympic debut.
USA women's volleyball beats Serbia to advance to gold medal game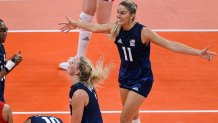 The United States women's indoor volleyball team will play in the gold medal match after a semifinal win over Serbia early Friday morning.
Team USA beat Serbia in straight sets, winning the first frame 25-19, the second 25-15 and the third 25-23.
The U.S. will face the winner of Brazil-Korea's semifinal game in the gold medal match on Sunday at 12:30 a.m. ET.
Brooke Raboutou finishes fifth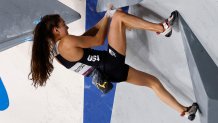 Slovenian sport climber Janja Garnbret took home gold in the women's combined event on Friday morning.
Japanese climbers Miho Nonaka and Akiyo Noguchi followed in second and third, respectively.
American Brooke Raboutou finished in fifth place.