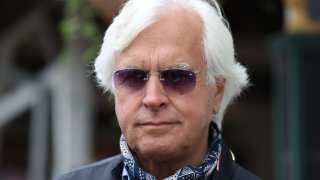 Bob Baffert has been the face of American horse racing for nearly 30 years.
His success on the sport's biggest stages and his shock of white hair make him hugely recognizable, even to the average person who doesn't follow the sport outside of the Kentucky Derby.
He trained American Pharoah to the first Triple Crown sweep in 37 years in 2015. He repeated the feat with Justify in 2018.
In all, Baffert has won a record-tying six Kentucky Derbies, seven Preaknesses and three Belmonts.
But he won't be at Churchill Downs on Saturday for the 149th Derby.
Why is Baffert barred from the 2023 Derby?
Churchill Downs Inc. barred Baffert from entering horses at any of its tracks for this year and through mid-2023. The punishment resulted from his 2021 Derby winner Medina Spirit failing a post-race drug test and later being disqualified from that victory in a ruling handed down in 2022.
Medina Spirit tested positive for betamethasone, an anti-inflammatory medication. It's allowed in Kentucky but must clear a horse's system at least 14 days before a race. It's considered a Class C drug, with a lesser potential to influence performance, but any level of detection on race day is a violation.
Baffert appealed the suspension, but a judge in February sided with Churchill Downs and the temporary ban will remain in place through this year. He is eligible to compete in the Preakness and the Belmont Stakes,
Last year, he missed the entire Triple Crown series.
Baffert has saddled 34 horses in the Derby — third-most in history — since his first appearance in 1996. Besides his six wins, he's had three seconds and three thirds.
This year will be just the seventh time he hasn't had a horse in the race.
What did Baffert say about Medina Spirit's failed test?
The trainer said the positive test could be explained by an ointment used to treat a skin rash on Medina Spirit. He said a veterinarian recommended an antifungal cream that was applied daily. Attorneys for Baffert and Medina Spirit's owner, Amr Zedan, said urine testing conducted by a New York lab confirmed the colt was positive for the anti-inflammatory not via injection but because of the ointment used.
Kentucky racing officials have said it doesn't matter how the anti-inflammatory was administered, only that it was present on race day, which isn't allowed.
The colt died in early December 2021 after a workout at Santa Anita. Baffert said it was a heart attack. A necropsy failed to pinpoint the cause.
Has Baffert been in trouble before?
Yes, several times. His filly, Gamine, tested positive for betamethasone after the 2020 Kentucky Oaks. It's the same substance that Medina Spirit tested positive for after last year's Kentucky Derby.
In the Gamine case, which Baffert didn't appeal, Kentucky racing officials fined but didn't suspend him. The filly was disqualified from a third-place finish and the purse money she earned was forfeited.
In April 2020, Gamine was disqualified after she won a race at Oaklawn Park in Arkansas. That same day, Charlatan was DQ'd from his victory in the Arkansas Derby. Both horses tested positive for lidocaine, a local anesthetic.
Baffert appealed both cases with Arkansas officials, who initially suspended him for 15 days and disqualified both horses. He succeeded in getting the rulings overturned. The horses had their first-place finishes restored and he was fined $5,000 for each positive test.
Arkansas officials said the positive tests did not impact the horses' performances and that they were the result of inadvertent contamination. Baffert blamed the positive tests on a pain patch worn by an assistant who saddled both horses.
He was also suspended for a year by the New York Racing Association for the repeated medication violations, although none of them happened in New York. That suspension was lifted in January.
Editor's Note: A version of this story first appeared in 2022. This version has been updated to reflect Baffert's current standing and new developments.