A coastal system will attempt to bring southern New England more snow this weekend. The question is: how much?
As it looks now, we'll see some snowfall in Connecticut, Rhode Island and even sections of Massachusetts, but the majority of the energy with this storm slides out to sea.
Our exclusive NBC model guidance shows about 1-2 inches of snowfall with this system. That snow should fall mainly before sunup on Saturday.
Now that we are into the month of March, accumulating snowfall becomes harder to come by, because of the higher sun angle. Once the sun rises on Saturday, roadways should improve quickly, even though snow will continue to fall.
We are forecasting high temperatures near 40 degrees, another reason that accumulation of snowfall will become harder throughout the day on Saturday.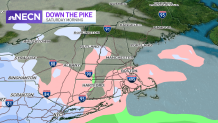 The system likely pulls away from the area by Saturday evening. Overnight lows Saturday into Sunday will be in the upper 20s, so there will be a concern for some icy spots early on Sunday morning.
Sunday's forecast is mostly sunny, with highs in the lower 40s, so any ice will quickly melt by late morning.
Although this system looks like a close call for the Boston area, it speaks to the overall pattern this winter: storm tracks that haven't been able to produce substantial snowfall.
After the weekend, we turn our attention to another storm that looks to threaten the area with snowfall Tuesday. The storm is still six days away and changes are likely to occur in its forecasted track.
The later in March we go, it becomes more difficult to get a big snowstorm. There certainly are notable exceptions, and the First Alert Weather Team will keep a close eye on each winter storm possibility we see.