New England has entered a more unsettled pattern that will extend through the exclusive First Alert 10-day forecast and brings a chance of rain and snow every other day or so in the days ahead.
Tuesday morning's snow stayed fairly light, but succeeded in dropping mild air and pavement temperatures close to freezing for a few spots of slushy film, but otherwise wet roads ended before late morning. After a few afternoon flurries and sprinkles, another jet stream level disturbance glides east over New England, carrying bursts of rain and snow with it from west to east, starting 4:30 to 7 p.m., respectively, Tuesday evening.
Although most will only see another fresh coating to an inch with less in far southern New England, higher terrain of western and northern New England may pick up a quick evening inch or two to slicken roads. Temperatures dropping below freezing overnight Tuesday night, even in southern New England, will mean some slick spots where moisture lingers on roads.
Wednesday starts with limited sun before clouds return with high temperatures in the 40s, 30s north – meaning marginal temperatures for rain versus snow in southern New England when the next round of precipitation begins Wednesday night between 9 and 11 p.m. in southern New England.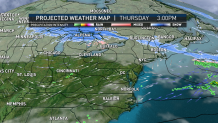 Chances are good, particularly given the night arrival, it'll be snow that starts in most of southern New England with a quick one to two inches by Thursday dawn, with two to four inches near and north of the Massachusetts, New Hampshire, Vermont border, before sleet and rain mix in and take over for nearly the entire southern half of New England.
Ski and snowmobile country – and much of northern New England – should see periodic snow and sleet Thursday, continuing to accumulate over half a foot by day's end, giving a nice boost for winter sports. Although colder and drier air arrives Friday and Saturday, the parade of disturbances should continue into New England with an active jet stream wind aloft delivering a new disturbance Saturday night into Sunday for pockets of snow.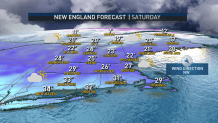 This atmospheric energy consolidates to a larger storm just offshore – at least that's the expectation now, but a situation like the setup for Saturday night and Sunday will always be monitored closely by our First Alert team of meteorologists, as a quicker storm development could increase impact for New England. The same pattern of storms developing nearby or overhead continues next week, specifically Monday night into Tuesday and again next Thursday – there's plenty for our team to keep you posted on, on-air and online!