We're gearing up for another storm in New England, and like almost all the previous storms, mild temps will overwhelm any idea of wintry weather.
That said, there was a little ocean-effect snow Wednesday night that kissed some communities with a dusting of snow. Thursday, that focus shifts west and northwest of the coast. We may find some brief (negligible) snow and mixed precipitation across central Massachusetts through noontime. After that, rising temperatures will ensure the remainder of the precipitation falls as rain.
How much snow will we get?
Heavy rain, 45-50 mph winds expected
With some sturdier lift to the atmosphere, there may be some heavier bursts of rain late Thursday evening as the warm front lifts through. Winds will be increasing from the southeast into the night and for the first part of the day Friday. These gusts won't be intense, but there may be some surges to 45 to 50 miles per hour along the coast and on both Cape Ann and Cape Cod, along with the Islands.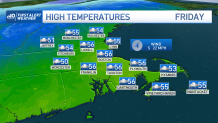 We'll see the weather rapidly improve after mid-morning Friday: the morning downpours exit, and the winds back off a bit. This bodes well for ceremonies on the Common for The Embrace – which starts at noon and culminates at 1 p.m. At that time, the showers will be diminished to sprinkles, and a bit of sun is possible. Winds will still be feisty, but the air will be mild. Expect 50s from midday into the evening if you're planning on seeing the memorial after work.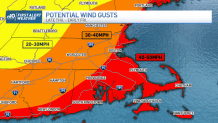 Colder air shuffles in Friday night and Saturday, but the chill will only bring us back to our normal highs in the upper 30s.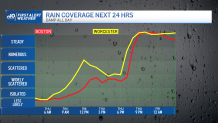 Winter will have to wait… again.