The snow and wintry precipitation will keep crawling from west to northeastern New England Thursday afternoon, meanwhile, Winter Weather Advisories are in effect through 1 a.m. Friday.
Mixed precipitation, snow accumulations up to 4 inches and ice accumulations up to two tenths of an inch for portions of central, northwest and southern Vermont will make for slippery travel through Thursday evening. Patchy fog will also intermingle with showers in the afternoon and evening that will limit visibility in the roads at times.
Snow in northern New England may add up to as much as 6 inches in the tallest peaks of New Hampshire and up to a foot in northern Aroostook County, Maine.
The rain will replace much of the wintry precipitation at lower elevations overnight as temperatures climb into the upper 40s along the north country and mid 50s in southern New England.
It all adds up to:
• Snow and rain changing to all rain
• Friday morning commute, with downpours slowing travel
• Gusty Friday morning wind – isolated power outages are possible (but not widespread)
Friday afternoon opens the gate for a cold front northwest that allows for another round of snow to wrap up things along Vermont, northern New Hampshire, while a lighter more isolated chance extends into the Berkshires.
While the rain continues through Friday, the wind will gust strongest along the South Shore.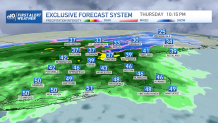 The strongest wind will gust from 40 to 50 miles per hour early morning Friday across the southeast shore along Cape Cod and the Islands. The wind may gust over 40 mph in southeastern Connecticut and southern Rhode Island as well after 3 a.m. through 8 a.m., but will continue through midday in Cape Cod and the Islands. Around that time, the rain will begin to shut off inland and slowly march out into the Pacific by the early afternoon. The northern country may still see spotty showers diverging through the area into the east northwest as the cold front sweeps through. This cold front will bring that snow across Vermont and the west with a dropping trend in temperatures through the weekend.
Saturday and Sunday will keep temperatures in the upper 30s with clouds around and Sunday features a coastal low that could clip the far southeastern portions of Massachusetts, where accumulating snow may add up in Barnstable, Plymouth and Norfolk counties.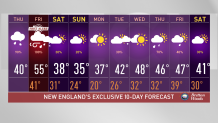 Next week we'll start with temperatures near average and likely climb up a stairway to the upper 40s by midweek and into the second half of the work week. More unsettled weather tags along too.