Thursday morning's rain associated with a fast-moving disturbance fell as freezing rain in parts of central New England and snow in northern New England, where two to four fresh inches fell in the mountains of Ski Country.
While snow and mix continues through much of the day in central and eastern Maine, the bulk of New England sees a dry afternoon with breaks of sun emerging through the clouds during the late day as a clearing trend ensues Thursday night.
The clearing is a product of drier and colder air draining south on a northwest breeze, dropping overnight temperatures into the 20s for most.
Friday dawns with some sun but clouds increase during the day as our next, much advertised storm system draws closer. This is the same atmospheric energy that dropped snow on the Desert Southwest Wednesday and Thursday, helping Flagstaff, Arizona, set their snowiest season to date, and as the storm moves east into the Upper Ohio Valley, it will translate its energy to the East Coast, where a new storm will develop just south of Long Island Friday evening.
This transfer of energy and newly developing storm help to thrust moisture into New England from southwest to northeast Friday evening and night, with seasonable temperatures near 40 degrees during the day, falling at night for widespread snow.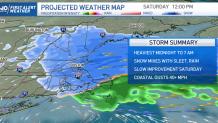 The overnight burst of snow will drop a quick 3 to 6 inches for much of New England by dawn Saturday, though there will be some exceptions: along the south coast of Rhode Island and Massachusetts , warmer air off the ocean will change snow to rain after only a coating to 2 inches of snow, though more may fall at the south coast of Connecticut. Snow will develop later and therefore not add up to as much by dawn Saturday in northeast New England, but the snow will fall for a longer time Saturday. The deep interior of southern New England will still see accumulating snow even after crossing the 6 inch threshold early Saturday morning.
This time of the year, the sun angle is equally strong to that of October, meaning in the absence of very cold air, treated roads often see daytime improvement, even as snow falls, and accumulation rates drop dramatically. For this reason, our First Alert Team believes even as snow and mix continues to fall periodically throughout Saturday, additional accumulation will be limited except for in Vermont, New Hampshire and Maine, where colder air hangs on and snow can continue to accumulate.
At the coast, a gusty east wind will top 40 mph at times Saturday morning, perhaps even over 50 mph briefly on Cape Cod for a windswept rain before both precipitation and wind die down later Saturday. Sunday will be quieter, with clouds filling the sky at times and a few snow showers.
Next week our exclusive First Alert 10-day forecast looks like a first week of March should: seasonable temperatures and a disturbance bringing rain or snow showers Tuesday, then again Friday into Saturday, with exact timing TBD.