Our transition to colder air continues, with warmer air surging up the east coast through Wednesday. We'll run the gamut with temperatures along the South Coast between 50 and 55 degrees, while areas across the Merrimack Valley sit in the 30s.
As the warm front sits just south of the Boston Metro, clouds will hang around much of the region. Temperatures will hover in the 40s for much of the day, but 50s won't be far off. The steady showers exit New England Wednesday morning, with cloudy skies prevailing for much of the day.
Rain ramps up late Wednesday and through the evening. Rain totals will be just north of half an inch for most. Icy spots will potentially setup as colder air filters southward across New England Thursday morning on a northeast wind, creating some slick spots on wet roads and also resulting in spotty mixed showers of rain, freezing rain and snowflakes.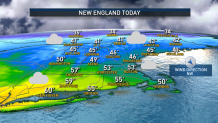 Thursday morning likely won't be the last of the mixed wintry showers, with mixed raindrops and snowflakes expected from a number of showers that pop up Friday, and another round of snow showers possible with yet another follow-up disturbance Sunday – all told, around an inch of rain is expected to fall on southern New England with half an inch to an inch in northern New England.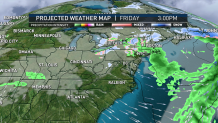 The weather should quiet next week, though the new, cooler air will stick around – still a couple of degrees warmer than normal for this time of the year around or just over 40 degrees, but much closer to where we should be than recent days have been with highs near and over 50 degrees!